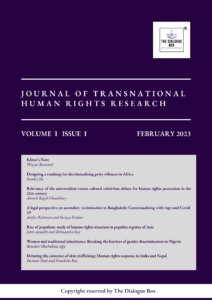 About the Journal
Journal of Transnational Human Rights Research (JTHRR) was founded in July, 2022. The Journal is independent of any State affiliation with a truly diverse and global editorial and advisory board. It will be published bi-annually by Institute for Human Rights Research, an initiative of The Dialogue Box.
Volume 1 Issue 1 of JTHRR is published on 28th February 2023. The volume is available electronically.
Editor in Chief/Managing Editor
Simitha Singam, Programme Co-Ordinator, Westminster Foundation for Democracy (WFD), United Kingdom
Ritabrata Roy, Doctoral Tutor, University of Sussex, United Kingdom
Siddharth Mathur, Partner, Lex Protector L.L.P., India
Asadulla Iqbal, Assistant Professor, Jindal Global Law School, India
Mohd. Imran, Lecturer, Villa College, Maldives
Shahzeb Ahmed, Advocate, Supreme Court of India
Rakshit Shrivastava, Advocate, Delhi High Court, India
Our vision is to provide leading and innovative research in the field of human rights by critically exploring both its theoretical foundations and practical applications. Given the current gap that often exists between theory(ies) and practice(s), our journal is aimed at bridging them, especially with a view to increasing accessibility in this complex and wide ranging domain. Indeed, the very effectiveness of rights necessitates the movement away from what is increasingly mere high-sounding rhetoric towards a reflection of the realities on the ground, at least if this great human-centric project is to result in meaningful changes and endure over the centuries to come.
1. Editor's Note
Wayne Ramwell – pp. IV
2. Designing a roadmap for decriminalising petty offences in Africa
Stanley Ibe – pp. 1-12
3. Relevancy of the universalism versus cultural relativism debate for human rights protection in the 21st century
Ahmed Ragib Chowdhury – pp. 13-31
4. A legal perspective on secondary victimisation in Bangladesh: Contextualising with rape and Covid-19
Arifur Rahman and Suraya Ferdous – pp. 32-56
5. Rise of populism: Study of human rights situation in populist regimes of Asia
Jatin Awasthi and Mimansha Roy – pp. 57-80
6. Women and traditional inheritance: Breaking the barriers of gender discrimination in Nigeria
Benedict Okechukwu Agu – pp. 81-104
7. Debating the existence of skin trafficking: Human rights response in India and Nepal Susmita Paul and Pratiksha Rai – pp. 105-123
Download the complete issue here.