The Caste System & the Scheduled Castes
Within the Indian subcontinent, the caste system is a complex social framework that establishes social stratification and enforces social limitations. It is symbolised by a hierarchy that divides society into multiple tiers based on birth and has historically been connected to particular professions and social responsibilities. According to Mason Olcott in The Caste System of India, the caste system is a fundamental aspect of the Indian societal structure. It has a significant impact on social relations, economic possibilities, and cultural norms. The system categorises the society into a four fold division with the Brahmins occupying the highest position, followed by Kshatriyas, Vaishyas and the Shudras. However, this structure excludes a significant section of the population composed of 'the untouchables' or Dalits. Referred to by various different names throughout history, the term 'Dalit' as a form of self-identity rose to popularity in the 1970s. It literally translates to 'oppressed' or 'broken'. Dalits continue to suffer from being disproportionately at risk and consistently struggle with being excluded and exploited in the nation.
In 1935, the British Government established a new legal classification called 'Scheduled Castes' (SCs) which accounted for various communities across India who were labelled as 'untouchable castes'. This was implemented to provide them with constitutional safeguards and other benefits. An example of a widely recognised scheduled caste group is the Dalit community. However, it is essential to understand that Scheduled Castes is not a 'caste' and not all SCs are dalits and neither do all dalits fall under this category.
Who are Dalit Christians?
Approximately 70% of the estimated 20 million Christians in India belong to the Dalit community, consisting largely of individuals who converted to Christianity during British colonial rule. The decision to embrace Christianity, Buddhism, or Islam among some members of the lower caste communities was driven by their pursuit of dignity and equality within their new faith systems.  Due to their former untouchable identity and their newly discovered identity as Christians, Dalit Christians are a minority inside the religious minority.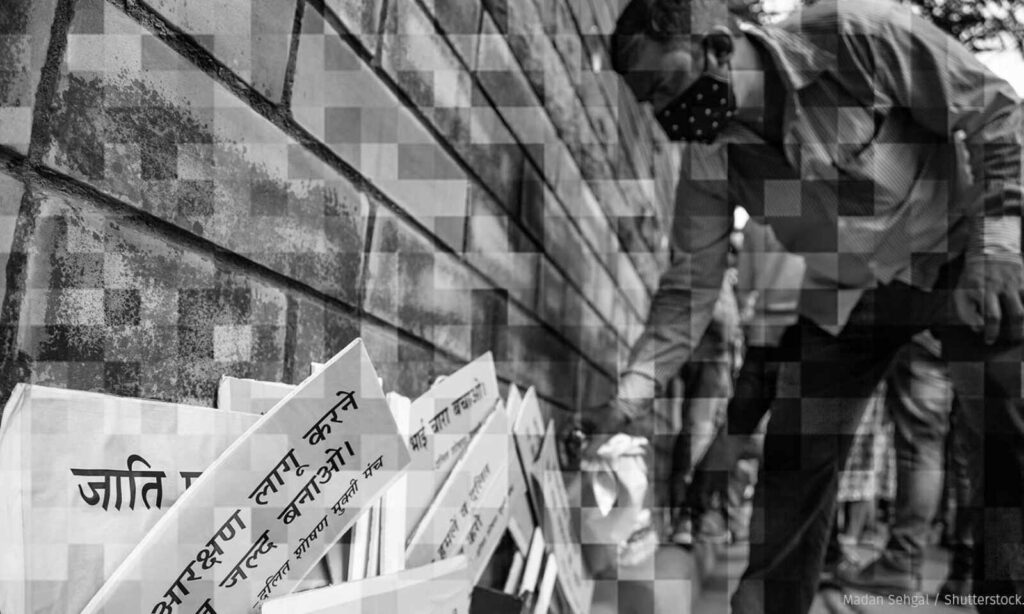 Dalit Christians who converted to Christianity were often referred to as 'Christians of Scheduled Caste Origin' (CSCO). In the late 1970s and early 1980s, Christian communities started using the term 'Dalit' to refer to Scheduled Castes. The name 'Dalit Christians' was subsequently adopted by the National Convention of the All India Catholic Union (AICU) in 1989 to refer to Christians belonging to Scheduled Castes (A Research on Christian Dalits in India).
The Pariah Problem by Rupa Viswanath elaborated on how during the period of Christian missionaries in India, Dalit Christians were active participants employing their agency to pursue their own interests and objectives rather than being passive beneficiaries of missionary assistance. The Christian principles of equality resonated strongly with Dalits. They believed that by becoming Christians, they could achieve a platform that would help them overcome the strict constraints of the caste system and have access to education, break away from the oppressive labour laws and better their socioeconomic status. The missionaries assisted Dalit communities materially by providing for their immediate financial needs and easing their suffering, which served to cultivate a sense of gratitude and trust. Dalits received a chance to escape the deeply entrenched stigma of untouchability through Christianity's offer of social mobility.
The identity of Dalit Christians in India is shaped by their position within the caste system and their experiences of social and spatial marginalisation. They are often described as being 'twice alienated' facing discrimination not only within the church but also in the wider community.
Navigating Intersectionality & Marginalisation
In 1989, Kimberlé Crenshaw coined the term 'intersectionality' to help explain the oppression faced by African-American women. The intersectionality theory's fundamental premise acknowledges the complexity that results from the interaction of different social identities like race, gender, class, sexuality, religion, and caste. It highlights that these intersections contribute to shaping an individual's experience of power dynamics.
According to Crenshaw, intersectionality recognises the mutual dependence of oppression and power structures and emphasises that individuals can simultaneously experience multiple forms of discrimination because of their multivariate identities.
Marginalisation is a multifaceted phenomenon that separates particular groups of people from the centre of social interaction, limiting their prospects in the political, social, and economic realms. It is an idea that is strongly interwoven with the multilayer concepts of inequality within marginalised populations. Marginalisation and inequality frequently intersect courses and thrive off one another.
Building upon the theories of multiple intersectional-feminist scholars, it becomes evident how intersectionality greatly delves into various aspects of an individual's identity. This understanding goes beyond what frameworks centred on a-single aspect can achieve. Within this context, it is recognized that individuals who possess intersecting identities undergo exclusive and intensified instances of marginalisation.
In the case of Dalits in India, who belong to marginalised castes and some who identify as religious minorities such as Dalit Christians, they encounter the combined effects of discrimination based on both their caste and religion. The convergence of their caste and religious identities profoundly affects their daily experiences, leading to various challenges and strains of oppression.
Challenges faced by Dalit Christians
Dalit Christians continue to occupy one of the lowest socioeconomic positions in Indian society. They face significant disadvantages in both education and employment opportunities.After analysing the findings from a survey conducted on Dalit Christians, it was revealed that merely 35% of men and 17% of women were literate. The majority of Dalit Christians engage in agricultural labour, placing them among the most impoverished individuals within their communities. To further exacerbate their financial difficulties, they are burdened by social discrimination endured by all members of the Dalit caste group.
In the book Margins of Faith: Dalit and Tribal Christianity in India, the authors state that Dalit Christians suffer from five-fold discrimination, namely: discrimination by the government, by the caste Hindus, by fellow Hindu Dalits, by the upper caste Christian community and by the subgroups of the Dalit Christians themselves.
The government's directive during the creation of the scheduled provisions said that "no Indian Christian shall be deemed to be a member of the Scheduled Castes" paved the foundation for the exclusion of Dalit Christians from the Scheduled Caste classification. The Dalit Sikhs and Buddhists were later included in the Central Government's programmes, which at first were only accessible to Dalit Hindus. This displays a clear bias towards Hinduism. The difficulties experienced by Dalit Christians are made even worse by their absence from perks like reservations. While some people think that the caste system is only present in Hindu society and is lost when a person converts to Christianity, the reality lies in the fact that certain religious communities, such as Islam and Christianity, have been influenced by the caste system to varying degrees and have begun to imitate discriminatory practises belonging to the Hindu society.
The hierarchical arrangements, akin to the caste system, can be witnessed amidst the Dalit Christian congregation in India. Leaders of the church exert their authority over resources and perpetuate a strict structural hierarchy within the Christian community. In order to establish and uphold this hierarchy, they employ Christian spiritual concepts that emphasise submission to those in authority. The social power divide exacerbates subjugation, resulting in the marginalisation of Dalit Christians. Discrimination is further exemplified by practices like separate burial grounds and reserved areas for communion exclusively meant for Dalit Christians. In states such as Gujarat, Kerala, and Tamil Nadu, instances of segregated churches catering specifically to Dalits or non-Dalits have been observed. Housing discrimination against Dalit Christians has been experienced in Patel-dominated regions of Gujarat while in Kerala, caste consciousness tends to overshadow biblical teachings at times thereby leading Dalits away from Christianity upon conversion. Due to religious and cultural differences, Dalit Christians have become alienated from other Dalits.
Lack of Government Action
In India, widespread structural violence against Dalit Christians results from their lack of rights and protections. They are routinely denied access to the benefits of affirmative action, which restricts them from achieving equal possibilities in employment, education, and political reservations as those from the Hindu, Buddhist, and Sikh Dalit communities. Due to political pressure and their affiliation with Hinduism as offshoots under Article 25(2)(b), Sikhs and Buddhists were added to the Scheduled Caste category in 1956 and 1990, respectively. Sikhs and Buddhists, whose religious systems do not recognise caste hierarchy, are entitled to the same benefits as Scheduled Castes under the 1950 Order. Christianity and other Abrahamic religions are not included in this inclusion, which raises questions about how Articles 14 and 15 of the Constitution, which guarantee equality and prohibit discrimination based on religion, are being violated.
The safeguards and protection offered by laws like the Scheduled Castes and Scheduled Tribes (Prevention of Atrocities) Act of 1989 (Amended 2015) and the Protection of Civil Rights Act of 1955, are not extended to Dalit Christians. These laws are meant to combat caste-based prejudice and provide assistance to those who have been victimised by it.
The government established several commissions to investigate the plight of the Dalits. These commissions have brought attention to the pervasive poverty and discrimination that takes place, indicating that caste-based injustices go beyond the Hindu culture. The protection of Dalit Christians' rights has been advocated for in reports like the Mandal Commission Report and the Kaka Kalelkar Commission Report. However, despite these commissions and recommendations, no concrete action to uplift the conditions of Dalit Christians or Dalit Muslims is being taken. Their pleas of the suffering continue to go unnoticed by the larger society. 
Conclusion
In India, Dalit Christians balance their dual identities as Dalits and Christians while challenging their marginalised position within the framework of regional traditions. They are conscious of existing in two worlds, one influenced by the Christian faith and the other by the Brahmanical Hindu system. Although their Christian identity provides an alternate framework, their Dalit identity continues to be strongly felt because of things like economic dependency, a lack of prospects for higher education and employment, and their own agency.
Hindu Dalits who turned to Christianity for solace still have a long way to go before they are able to thrive in peace and equality. It becomes evident from studying this problem from an intersectional perspective that a more nuanced understanding is needed to overcome the numerous difficulties experienced by Dalit Christians. Promoting social justice and building a more inclusive society depends on revisiting and revising the legal system to account for the various needs of marginalised groups. In order to create a society that upholds the ideals of justice, equality, and respect for all people, it is crucial to acknowledge the agency of Dalit Christians and secure their equal involvement and empowerment in every sphere of life.
About the author …
Hi everyone, this is Adrita Majumder, sutdent of Flames University (West Bengal). I'm a Sociology major with a Film and Television minor, driven by a deep curiosity about group behaviors and a passion for storytelling. Outside of academia, I express my creativity through photography and videography, trying to capture compelling visuals that tell meaningful stories. I strive to merge my sociological insights with my creative skills to create impactful content that sparks conversations and challenges societal norms.