Online dating has become an important part of our life now a days. But this virtual lifestyle has ignited several security concerns. This blog critically explores such issues from different aspects.
Humans have evolved and so are the ways to mate. Dating has been a fascinating term for people of third world countries before Sitcoms like Friends started to air on cable equipped televisions. What happened after that is nothing short of a miracle.
With the advent of technology, nearly every aspect of our life is getting digitalized. Education, healthcare, businesses, everything has enormously overhauled. But can digitalization take over the interpersonal and intimate aspect of a human life such dating and relationships?
In the contemporary era, when everyone is connected to each other digitally, how can dating remain untouched and unaffected by the trend? That's exactly why we have dating apps. Along with technology, the generation factor also plays a big role in the changing trends of dating world. As generations change, so does the idea of dating and the ways to find a companion.
The inter-linkage of technology and ideology of new generation of having the freedom to choose their own companion is the reason why youth go for online dating according to Debating Communities and Networks. The convenient way offered by dating apps to meet new people and make friends online is the reason why people nowadays look at these apps. The lockdown experience during pandemic provided a strong push to the trend of online dating. It helped in making a comfortable bed for market of dating apps in the country driven by a large population of single men and women.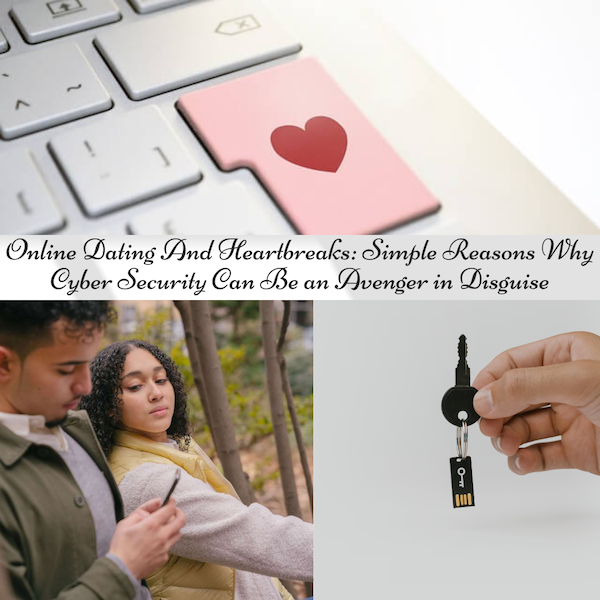 However, there is a negative angle to everything … isn't it?
In dating apps, this loophole comes in the form of cyber attacks. One does not require being dumb in order to get attacked digitally via dating apps. One can be a very rational and smart person but the strategies or the techniques used by the fraudsters are often very perplexing and sophisticated for anyone to fall into these traps.
One such example is the case of Grindr. Dating app Grindr came under the scanner for revealing the location of its users. Grindr, along with three other dating apps, namely, Romeo, Reco and 3Fun were found to be giving the precise location of its users, as reported by NBC News. Following are the possible ways in which a cyber attack can take place (Specially being included for the purpose of spreading education taking in consideration the current scenario regarding cyber attack and cyber security) :
Fake dating scams- Scam dating sites claim to be legitimate but are actually filled with scammers. This websites are created with the agenda to dig into your information.
Photo scams- Scammers convince their target to share their personal information in exchange for intimate photos.

 

Code verification scams- Fraudsters send a fake verification code through e-mail or text posing to be a dating app or website. Once clicked on, it will ask for their personal information including Social Security number and credit cards.

 

Malware scams- Malware is also common in on dating sites. In this case, the scammer interacts with their potential target and then sends them a website that looks legitimate however it is a page that contains malware.
Interesting Stats Which Are Difficult to Be Missed
A recent global survey which was commissioned by Kaspersky was conducted and a report was published on its basis. According to the report, as stated in The Hindu Business Line, 34% of the Indian respondents acknowledged their fear of using dating apps, reason being the digital crime, lack of cyber security and the fraudsters present on such apps. Respondents also accepted that they do not trust the people on dating apps in general. The report further states that catfishing , malicious links or attachments and stealing of identity are the most common scamming methods. Another serious issue that the report highlighted was the lack of privacy while using dating apps as 26% of the people involved in the survey complained about privacy leaks. Additionally 24% of the users deleted dating services because they wanted to make personal information more private.
There was a study carried out by Kaspersky in year 2017. The research was based on nine dating apps/services which were popular at that time. The researchers came up with a dismal conclusion that dating apps had major issues regarding the secure transfer of user data, as well as its storage and accessibility to other users. The concerned threats were that apps did not hide the user's location and it was possible to find out the user's real name and locate their other social networks. The results from 2017 were compared to the results obtained in 2021. The apps used were Tinder, Bumble, OKCupid, Badoo, Mamba, Pure, Feeld, Happn and Her (the apps are those which are popular globally, however they do not fail at depiction of Indian Market). 
Because of the changes in market for dating apps, the lineup was slightly different but majority of the apps were only the ones used in 2017 for the purpose of research. Over the span of four years (2017-21), the mechanism of data transfer between the app and the server had significantly improved. All nine apps used this time used encryption, all featured a mechanism against certificate-spoofing attacks, on detection of a fake certificate, the app would stop transmitting data. Mamba additionally displayed a warning regarding the connection being insecure.
On analyzing the stats, conclusion can be drawn that over the time, cyber security in dating apps has shown improvement but there still are improvements to be made. Also more than half of the Indians who use dating apps are comfortable with them. This doesn't mean they do not get targeted, it simply implies that people are conscious and concerned while using these apps and do possess an understanding as to how should they behave on a digital platform. 
The 'polarization' of Cyber Crimes: The Gender perspective
The presence of fraudsters on dating apps and security issues is undeniable however there comes another angle to this story which is the gender issue. People have this polarized opinion that females are the usual victims when it comes to fraud and cyber crimes which do not really stands true. Instead most of the fraudsters who aim at mining the money look for targets that can provide them with the same. That is why most of the victims are middle-aged men and women from well to do, mostly among the high income groups. With this it is quite evident that gender does not play much of a role when it comes to cyber attacks instead it the motive and targets are set as per the motive only. 
There are a number of cases which supports the same argument that men are also the potential victims of fraudsters on dating apps and cyber crime does not necessarily target the women. According to Times of India, In August 2022, a student from Turkayamjal lost ₹98,400 to this scam after the woman started threatening to make the video viral.  In October 2022, an official from Cherlapalli central prison was targeted by cyber fraudsters and was duped off nearly ₹1,00,000, as per the reports of The Deccan Chronicle. Also a few years back, a couple duped "hundreds" of men off Rs. 500-1,000 using fake accounts on dating apps, as reported by Hindustan Times. This is just the tip of the iceberg since a lot of cases do not even get reported. Cyber attacks can be as destructive for a man as it can be for a woman based on the intensity of the loss caused to an individual.
So…Should online dating be discountinued?
Dating apps do have various issues concerned with the security of its users but it does not at all means that they should be uninstalled right away. It is an innovative mechanism for today's generation for socializing and meeting new people digitally and can even prove to be fruitful. Instead of discontinuing the apps, we should instead ponder over how can it be better? The 'trendy' Tinder and Bumble are comparatively safer than before but improvisations are still there to be made. There is still a long way to go when it comes to cyber security. A much better mechanism for verification, data protection practices, reporting and transparency in reporting are yet to be set in place to make these platforms even better.
Individuals must beware of possible cyber attacks by following general practices like not clicking on suspicious looking website, not interacting with someone outside the site, not sharing intimate photos and having intimate live sessions which can further cause harm to the individual and instantly reporting to the cyber police if a cyber crime strikes. This way, at least the primary security of the users can be ensured. Part of responsibilities lay with the tech companies to improve their safety standards and a part lies with the users.
Gahana is a student of Lady Shri Ram College for Women, Delhi University, pursuing Journalism Honours. She has a keen interest in writing, as it helps her broadening her knowledge base.
She tries to look at things with a positive outlook and believe in action.
Night skies and stars are her peace providers.