This post is written by Ramsha Hashmi of Tamil Nadu National Law University, India
The age old adverb in advertisement has been that "sex sells". However, Indian advertisements have proved that misogyny, sexism and violence sell equally well. Lets take a deep dive into the sexist Indian ads over the years.
The recent controversy around the Layer'r Shot deodorant's ad has brought to light extremely pertinent issues that have so far been rarely given mainstream attention by the Indian Populace or regulatory bodies.
The extremely lewd advertisement, show cases a young couple being ambushed by four men in their room. These men then make suggestive remarks of "taking a shot" with heavy implication of sexual favours and rape involved. Indian twitter has been outraged over the past week over this, users labelling the advert "sickening" and a reflection of the rape culture still very much prevalent in India.
After the Advertising Standard Council of India (ASCI) was tagged on tweets discussing this very ad, they promptly responded by stating that the ad was in breach of the ASCI code and against public interest. They further went on to suspend the ad and carry on investigation against it. The Information and Broadcasting Ministry issue an order for suspension of all such controversial deodorant advertisement and announced that an inquiry is being held in compliance with the advertising code.
Rule 7 of the Cable Televisions Network (Amendment) Rules (2006) stipulates the "Advertising Code" for cable services which have been formulated to comply with the laws of India and to ensure that advertisements are not offensive in nature and are not offensive to morality, decency or religious sentiments of viewers.
The order from the Ministry comes in response to the letter written by the Delhi Commission For Women to the Union Minister Anurag Thakur, vocalizing the demand for the misogynistic advert to be taken off air.
Media is highly reflective of a society, as well as society reflecting the standards set in place by its popular media. This juxtaposition holds true for the toxic cycle of "life reflecting art, art reflecting life" in India more than most other societies. An Usha sewing machine ad from the 1980s, targeted towards mothers emphasizes how she must train her daughter to be the ideal housewife, which in return will make her a "precious asset" to her "home and family".
These old adverts, filled with archaic gender norms and misogyny have often been dismissed as being a result of the sign of the times. However, their impact on the public mindset cannot be understated.
Not much has changed as can be seen by an extremely relevant report published in April 2021 by UNICEF in collaboration with the Geena Davis Institute on Gender in Media (GDI). This study titled "Gender Bias and Inclusion in Advertising in Media" analyses Indian advertisement on television as well as the internet.  Indian ads surpass global statistics in terms of female representation with female characters dominating the advert 59.7% of the time, their portrayal however is deep rooted in stereotypes and sexism with women more likely to be shown as married and as caretakers or parents and less likely to be shown in paid occupation.
Most household cleaning products such as washing powder and rinsing soaps showcase women performing household chores. In a specific tide ad, a man is seen prancing around telling other men that their shirt is obviously not as white and clean as his as their wives have not done a good job washing them, because obviously, men cannot and will not do their own chores.
The study further shows that 2/3rd of female characters on Indian adverts have medium light skin tone and female characters are nine times more likely to be shown as "stunning and very attractive" compared to their male counterparts. This unsurprising considering the colorism that has been a pressing socio-political issue in India since the 1990s with the dawn of western advertisements imposing their beauty standards on a south Asian market. Fair & Lovely promoted this colorism for decades with extremely direct implications that in order to be successful, women must have a fair complexion. Veet hair removal cream launched an extremely problematic campaign named "You're not a boy" with the premise that a woman having body hair is masculine.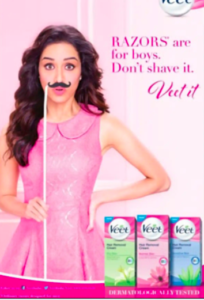 Sexism and sexual harassment in the workplace has often been glorified by Indian advertisements. A 2016 advert by Jack & Jones depicts a asserting his power over a women by "not holding back", heavily insinuating sexual assault. Perhaps the most offensive series of advertisements is the 'Men will be Men' ad campaign by Imperial Blue. This ad series showcases men being creepy and making women feel uncomfortable by staring in various different scenarios.
I could go on and on with hundreds of examples of problematic ads, however the impact these adverts have made has been imprinted on the public psyche. It is an undeniable fact that these ads are a reflection of gender roles, familial hierarchy and the general rape culture in India. In a society where women are considered to be second class citizen, existing to serve a man and be a reflection of his honour, it is hardly surprising that rape jokes are punchlines in advertisements. However it is time for the Government and ASCI to step in and reform the state of affairs. It is only through progressive measures and positive symbolism that media in our country can be more than just a medium to sell a product and have a positive rather than detrimental effect on public opinion. The Dove Ad campaign "Let's break the rules of beauty" has been a fresh breath of air, casting women of various body types and skin tones, promoting the idea of beauty in diversity. Ariel's ad "Sons Share The Load" showcases a mother finding out that her daughter is quitting her job due to the fact that her husband does not contribute to household chores, it makes her realise that her own son may grow up to be a similar man. Hence she starts encouraging him to partake in household chores.
It is enthralling to see that the Indian population and government is finally acknowledging the problematic nature of misogynistic messaging, a very important first step. However the ASCI and the I&B ministry need to be more pro-active and actually implement the advertising code, for this country has a long way to go.