Disasters occur unpredictably, causing chaos and desolation amongst societies globally. Nevertheless, not everyone is affected uniformly. Disadvantaged communities, like Dalits and other lower castes communities in India, have to face a much harsher impact of the disaster's aftermath. These at-risk communities deal with significant barriers when attempting to obtain disaster support and there are multiple layers of marginalisation that they have to endure.
The marginalisation of Dalits and lower caste communities in India is deeply rooted in the hierarchical caste system that has been prevalent for centuries. The caste system categories individuals into rigid social groups, and vertically stratifies the society, placing Dalits at the bottom. This discriminatory social structure has led to pervasive inequalities and exploitation, leaving Dalits economically disadvantaged, socially ostracised, and politically disempowered.
Dalits, who are still regarded as 'untouchables' by members of the other castes, struggle especially during natural disasters when people prevent them from using resources like communal water and sanitary facilities because a Dalit touching a public water source is seen to 'pollute it' since Hinduism is dominated by the belief of purity and pollution.
Environmental Change and its impact on the Dalits
As climate change worsens, its effects on disadvantaged groups like Dalits become more visible. The National Campaign on Dalit Human Rights published research that identified Dalits and Adivasis as the primary communities that would face the brunt of the 'climate apartheid'. Due to their disadvantageous position at the margins of society, 16.6%, or more than 200 million members of India's lower castes are not only the demographic most at risk from environmental catastrophes but also have the lowest capacity to recover from them.
Communities' susceptibility to environmental calamities is greatly influenced by their geographic location. Dalits have been driven to the periphery of society and marginalised, often being forced to live in remote areas with poor infrastructure and resources. Due to their positioning in low-lying areas, Dalits are disproportionately exposed to the dangers and risks associated with these climatic phenomena. In villages, temples are frequently constructed at high heights and on sturdy foundations, making them perfect locations for disaster assistance. However, because they are holy places, locals have a lot of power over who enters. Even during times of disaster, Dalits are frequently prohibited from entering these places. According to a research conducted by The National Campaign for Dalit Human Rights and Ambedkar Lohia Vichar Manch jointly in 2019, 36% of Dalits were turned away from relief shelters in the Puri district of Odisha. Cyclones frequently impact the states of Odisha and Tamil Nadu, where SCs make up 17% and 20% of the population, respectively, or 2.16 million people as of 2011.
The impacts of environmental catastrophes on Dalits are amplified in these places due to a lack of resources and insufficient infrastructure. According to the Socio-Economic and Caste Census (SECC) 2011 data, around 56% of Dalits in rural areas do not own agricultural land. They are extremely vulnerable to being displaced and losing their property during floods and storms because they lack adequate housing and safe shelters. In a report funded by the European Commission Humanitarian Aid and Civil Protection Office (ECHO), it was said that one of the biggest problems faced by low-caste groups was that they have very few assets and therefore do not qualify for compensation – pushing them further into poverty and deprivation.
Many Dalits rely primarily on agriculture and unorganised work for their livelihoods. Disasters can cause huge economic losses for Dalit farmers by ruining whole harvests. As a result, individuals may have to experience extended periods of hunger and destitution. The destruction of livelihood assets can also push Dalits into exploitative labour arrangements, further perpetuating their economic vulnerability.
Also read: Understanding the Intersections of Caste, Religion, and Marginalisation: A Case Study of Dalit Christians in India
Further Barriers in Accessing Relief
During disaster relief efforts, discrimination against Dalits and lower caste people occurs through various forms. According to the 2007 Arjun Sengupta Committee Report, about 88% of the Scheduled Castes face multidimensional vulnerability. Due to entrenched caste stereotypes, Dalits frequently experience exclusion in relief camps, which are essential for impacted communities during natural disasters like floods and cyclones. Dalit families are frequently compelled to construct improvised shelters outside the camps, leaving them exposed to severe weather and without access to basic necessities. Due to the hostility of authorities and relief organisations, Dalits may occasionally be denied access to resources or get subpar assistance. A 2011 research by National Dalit Watch, which identified caste-based discrimination at relief camps and while accessing aid, found that pre-existing circumstances of vulnerability and caste-discrimination get magnified and reproduced as structural and social exclusion during catastrophes.
Reports of bias and abuse against Dalits during relief operations are not unusual. Even when aid reaches the impacted areas, Dalits face enormous logistical and infrastructure problems. The timely delivery of relief to rural places where many Dalits dwell is hampered by poor road networks, constrained transit options, and insufficient communication infrastructure. They experience prolonged distress as a result of the delayed or inadequate assistance.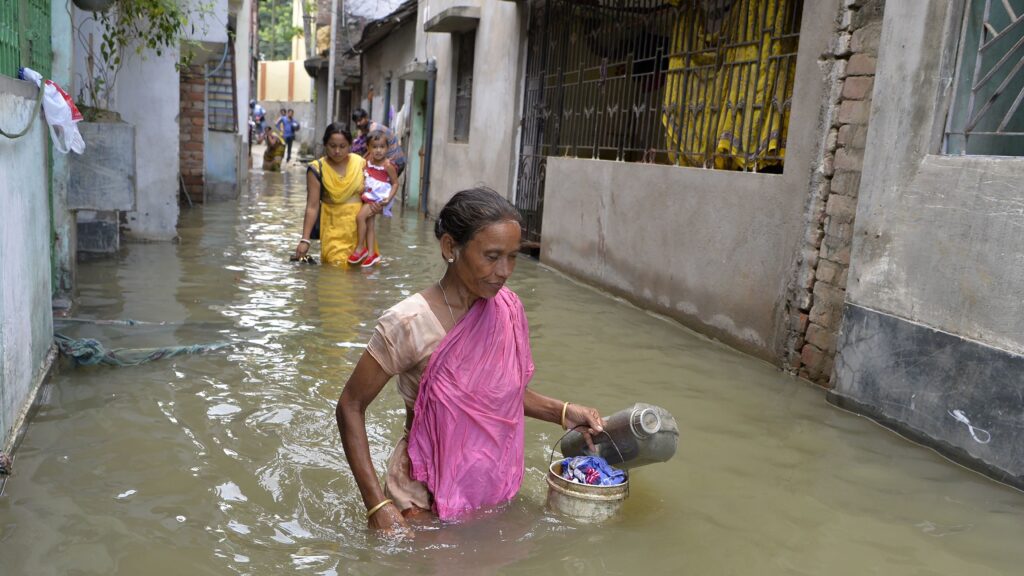 Disparities in Medical Aid
Due to its extensive and unpredictability, the COVID-19 pandemic can be classified as both a natural disaster and a health emergency. The outbreak showed the pervasive health inequalities and prejudice Dalits experience in times of need as it spread across the nation. Dalits continued to suffer from unequal access to medical care and basic resources in the wake of a natural disaster that affected all facets of society.
Dalits, because of their caste status were denied access to medical care, testing facilities, and even cremation grounds for their deceased family members during the pandemic. Due to their increased vulnerability to the health effects of the epidemic and natural calamities, Dalits now have even worse health results.
Ensuring Access
Institutional constraints that go beyond social and infrastructure issues make it harder for Dalits to get disaster help. Accessing much-needed aid is made more difficult by bureaucratic red tape, difficult application procedures, and biassed eligibility standards. Urban residents may feel as though their contributions of money or materials have made a difference, but the caste system actually plays a role in how disaster assistance is distributed. Even the most deserving people occasionally don't receive supplies because of poor connectivity and ignorance of distributors. Their vulnerability is made worse by a lack of knowledge and education about their rights and obligations, which places them at the mercy of the decisions made by the authorities.
A thorough redesign of the disaster relief system is urgently required to solve this problem, with a focus on inclusivity, representation, and targeted assistance for marginalised areas. To ensure equal distribution of disaster relief aid, laws must be passed to protect Dalit land rights and guarantee their participation in disaster management decision-making. Proactive action to prohibit caste-based discrimination in relief camps and aid distribution systems, and ensure open access to crucial public services must be taken.
About the author …
Hi everyone, this is Adrita Majumder, sutdent of Flames University (West Bengal). I'm a Sociology major with a Film and Television minor, driven by a deep curiosity about group behaviors and a passion for storytelling. Outside of academia, I express my creativity through photography and videography, trying to capture compelling visuals that tell meaningful stories. I strive to merge my sociological insights with my creative skills to create impactful content that sparks conversations and challenges societal norms.