Sexism, closeted or otherwise, has an unfortunate but almost inevitable presence in Indian Family Whatsapp Groups. Growing up in a middle-class family, I was added to my family WhatsApp group when I was 17. The always ongoing conversations never fascinated me, and the usual birthday messages were always dreaded. I naturally muted the text notifications and would only drop a text or two when the whole family came together to wish me on my birthday. Opening the chat box up on one such birthday, I scrolled, out of sheer curiosity, to see what made notification counts sore such heights daily. Not quite to my surprise, the text messages in the group had a very stringent dichotomy to them. Spending some time therein, I could accurately sense to which gender the texter belonged, without even trying to pay heed to their names. It was mostly only the females in the family who would send the birthday wishes, pictures of flowers from their gardens, recipes for delicacies they'd cooked, and texts to check up on ailing family members. The men in the family would bond over the political scenario and sports, no matter where they were located in the world. 
Sexism, in its most apparent form, however, met my eyes when a life update of my cousin going for her Master's in hospitality management to Ireland came through. While most were congratulatory, many also were concerned notes about how a 22-year-old incredibly sensitive 'girl' would survive the conditions of a foreign country. Another time, a picture of a female cousin wearing a saree sparked a series of praises, but compliments also noted that she looked like a 'bride', and she looked 'mature'. It took some time for me to understand that the connotation was to her sexual maturity. However, in Indian Family WhatsApp Groups, male cousins were only the topic of discussion in the case of academic or occupational updates and achievements. Vile wife-bashing jokes on what made good wives, angry wives, or irritable wives and how to keep her cool often did the rounds. 
Digitisation of Orthodox Patriarchal Norms
Digital private spaces such as Family WhatsApp Groups have been revolutionising the otherwise traditionalised Indian society. Family WhatsApp Groups have reinforced kinship ties across both national and international boundaries; it reads as a microcosm of the larger Indian imagination. Wherein good morning messages are the equivalent of the family coming together for breakfast and maintaining everyday socialization, but it remains a place to actualize patriarchal sentiments and relationships. 
The most typical form of manifestation of sexism is through stress on gender stereotypes, a discomfort with divergence from it, and certain rigid beliefs about what the fundamental natures of men and women ought to be. It manifests itself in the form of a power dynamic, wherein one is favored and the other is discriminated against. In a day and age where nuclear families are the norm and bonds on the basis of blood ties seem to be dissipating, coming together over social media platforms such as WhatsApp proves to be a feasible alternative. What often however accompanies these bonds are the inherently patriarchal structures most Indian families are built on. While patriarchal traditions are more prominent in joint families where there is a dynamic variation in age groups, family groups of WhatsApp, as most millennials say, are reincarnations of the joint family settings via digital media. So, to understand how sexism makes its way into family WhatsApp groups, one needs to grasp how sexism is perpetuated within Indian family settings in general.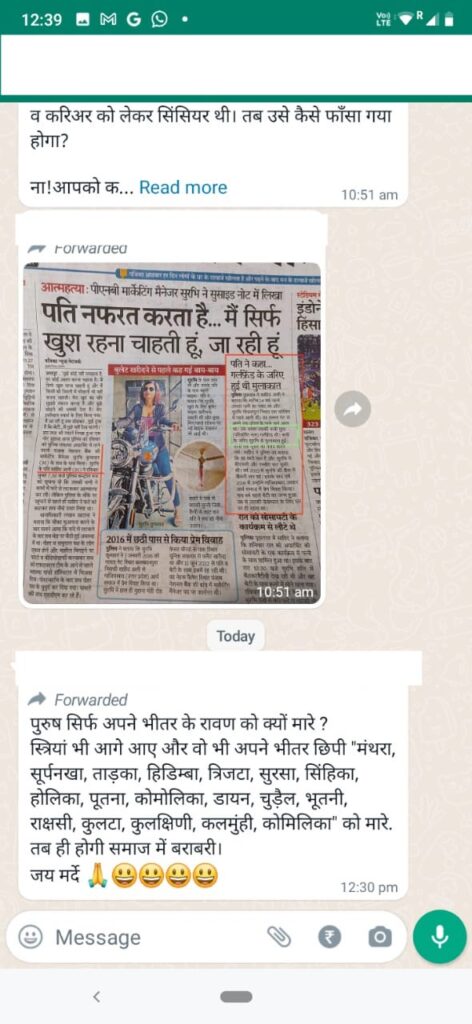 Misinformation and Cultural Cliche'
Subtle sexist behavior within families often comes as no surprise. More often than not, traditions and patterns within a family that have stood the test of time are justified on the pretext of it being what is normative; it is justified as the 'culture', which then stands as a justification for even discriminatory practices. For instance, a deleterious distortion of the notion of culture is invoked, especially by South-Asian male populations, in order for it to account for violence towards women. Culture, in the most general sense, can be conceptualized as group tendencies. Narrativizing discriminating practices, with gender stereotypes as their base, as being a part of culture obscures the victimization that individuals are subjected to, and multigenerational villainy is only multiplied by these Family Whatsapp Groups. When misogynistic notions are taken to be defining the Indian culture, rather than conforming to what the Indian culture really is, it creates and recreates a culture founded on inequity.
Stereotyping of Gender Norms and The Collateral Damage
In the Indian context, there is no doubt many, many women who are living proof echoing the fact that nothing can limit a woman: from world leaders to global role models, we have it all. However, in the commonplace understanding of the Indian culture, women are stereotyped as the guardians of households on whom the entire bulk of household work is dumped. These trends subjugated women to immense mental and physical perils, especially in the light of the Covid-19-induced lockdowns that were forced down on us. Without an escape from the domestic setting and in the absence of any external help, cases of physical, verbal, and emotional assault on women saw a peak surge. The most unfortunate reality when it comes to sexism within Indian families however is that women of the family are as much responsible for perpetuating sexist sentiments as are men. This has been a norm for a long; a study conducted in early 2020 showed that the difference between the percentage of women against men who agree that women must be active in appeasing husbands was 6% (61% for women vs 67% for men). While this remains, the general scenario pertaining to sexism in Indian families, a digital platform like a family whatsapp groups wherein the family comes together shows sexism in a newer and constant form making its presence felt for individuals. It then is not a surprise that memes of husbands having affairs to escape irritable wives or concerned texts when a girl child moving across international borders come from individuals of both genders. 
Whatsapp's Use To Dissipate Logic and Create Narratives
WhatsApp mimics a techno-utopian digital living room space but reflects and reinstates the sociopolitical scenarios of society and the State. The narratives perpetuated within the family WhatsApp groups space subtly shape and groom individuals for the public sphere which then goes on to become the majoritarian view in the public sphere. Miniscule instances of conversations in the WhatsApp group with only family members become instrumental in state power from within. WhatsApp then becomes a crucial tool in delimiting democratic practices that speak to people of all genders alike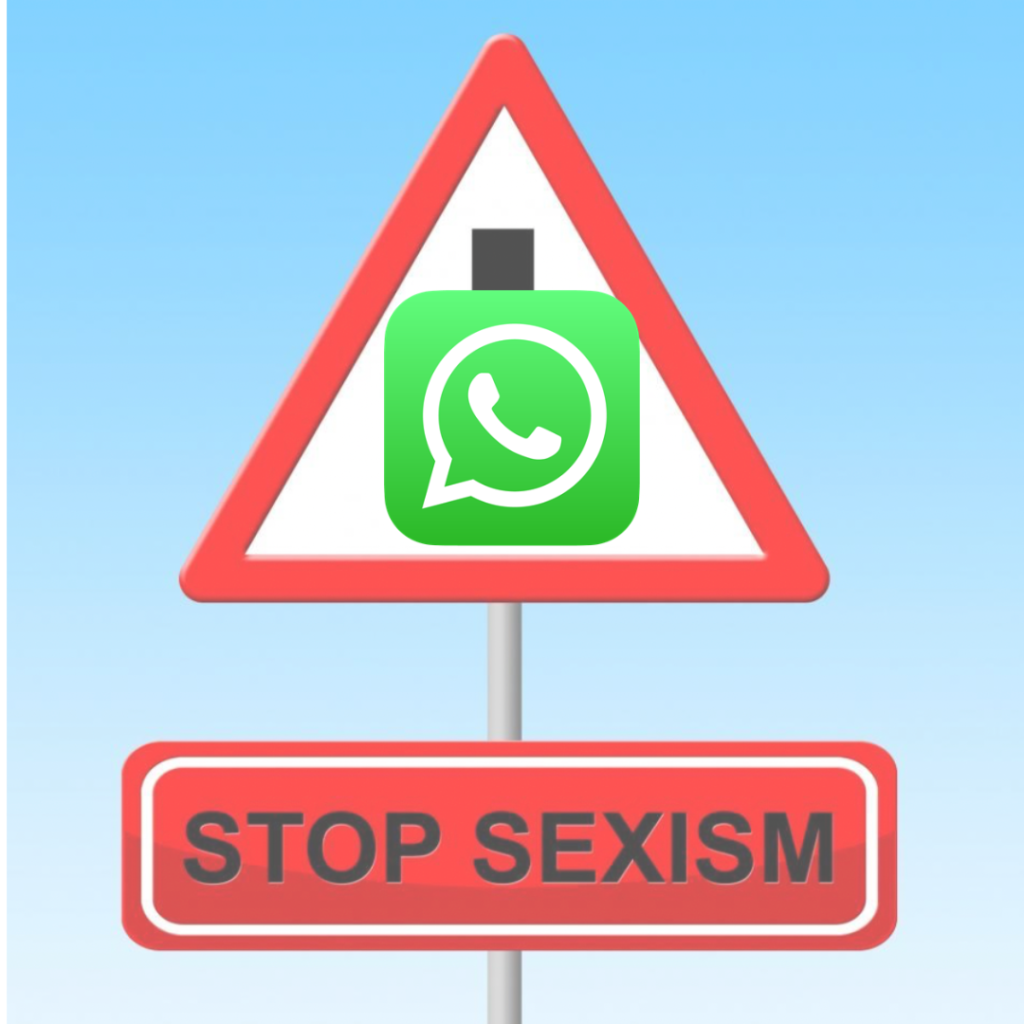 The persistent question that then stays is what is to be done once one identifies sexist patterns within family whatsapp group texting. Opinions might differ; in recent days there have been millennials taking a stand against sexism. It is no doubt that taking a stand with people you might have blood ties with is infinitely more complicated than standing up to someone on the internet whose narratives you might have qualms about. Familial relationships by their very nature are such that it forms a web, and expectations to revere elders are unanimous. In such a setting, calling out sexist behavior demands courage, but is the only means to drive out orthodox mentalities which compliment sexism. A 2017 Twitter post by a user named Namaah went viral; tales of her personal victory over her family were applauded when she called out her family for practicing casual sexism and xenophobia. Namaah's text was followed by her subsequently leaving the group. While this indeed is a bold move and agreeably difficult and radical as an approach, the practice of remaining silent in the face of sexist narratives needs to be broken. Discussions, no matter how futile, should be taken up with immediate families, and attempts to point out sexist behavior should never be shied away from. Those with whom we might have significant age differences could possibly have had to internalize sexist notions to make sense of their everyday life, with no alternative understandings being available to them. This makes their practice of sexism no less a crime. However, attempts at providing individuals with thoughts to introspect on, a nudge to question their behavior, and a spirit that would still want a better familial environment than give up or give in would possibly lead to breaking out of age-old cycles and inducing changes that remain necessary to ensure a safe family environment. 
About the author …..
This post is written by Triparna Sarkar, a student of Presidency University, Kolkata. Triparna is a student of sociology with interest in themes of social stratification, culture, gender, and their nodes of intersection.